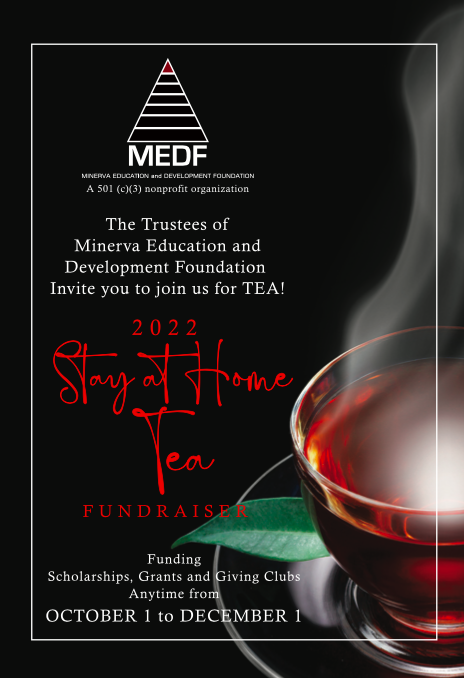 Funding Scholarships, Grants and Giving Programs
The Board of Trustees of MEDF cordially invites you to our Annual Stay At Home Tea
A warm cup of tea soothes and calms. It invites peace and quiet. A cup of tea is like a warm hug. Enjoy this gift of tea and then give someone else a hug by donating to MEDF!  #MEDFsupportsDetroiters
Donors, your generous gifts in 2021 enabled MEDF to provide nearly $58,000 to our community in 2022:
$27,652 in scholarships that uplifted Detroit area college bound youth
$25,000 in grants that enriched Nonprofits serving Detroiters in need
$5,000 in donations to Delta Sigma Theta Sorority Inc., Detroit Alumnae Chapter, for youth outreach programs
Gwendolyn Prater, President
Dr. Earlene J. Hall, Vice President Operations
Doreen Odom, Vice President Programs
Tanya Smith, Treasurer
Delicia Taylor Coleman, Esq., Assistant Treasurer
Diane Smith, Financial Secretary
Corlyss Conners Jenkins, Recording Secretary
Dr. Andrea Dunbar, Assistant Recording Secretary
Dr. Juanda Whiterspoon Hall, Corresponding Secretary
Inez Allen
Terrie Henderson
Jackie Brown Jackson
Jenice Mitchell Ford, Esq.
Cheryl Greer
D. Angeline Lawrence
Marilyn Mayberry
Gloria Butler Miller
Cydni Penn
Dr. Michelle Story-Stewart
Marlena E. Taylor, Esq.
Dr. Paulette Thomas
Michelle Vickers
Lisa M. Williams
Faire Carter
Charlene Jones Mitchell
Sarah Moore
Joan C. Price
Jennifer Smith
Margaret Tucker
No donation is too large or too small!
Your help is needed now more than ever!
With your help during our 30 year history, MEDF has given more than $700,000 in support in the form of scholarships, grants and donations. When you give to MEDE, your tax deductible gift stays in our Detroit community.